I must confess when I first admitted I was autistic, I didn't use the word 'stim.' I insisted it was' self soothing,' although that is only one of several purposes. I had so much internalized ableism that I was ashamed and tried to mask my habits: "Oh no, I'm not autistic when I'm alone." I told myself. When some gatekeepers interviewed a friend to vouch that I qualified for a medical study, she was shocked to be asked, "Does she flap?" Err, no she maintained, completely unaware that I had many stims.
A good video to debate whether or not to be yourself and #TakeTheMaskOff is this one by Yo Samdy Sam: https://www.youtube.com/watch?v=t9COmZ2HwXY&t=257s Stimming is discussed starting at 15:30. It's not by accident that most autistic women are armchair social anthropologists!
The research Samantha was responding to is here: https://molecularautism.biomedcentral.com/articles/10.1186/s13229-019-0308-y
Of course, too much masking leads to anxiety and possibly to meltdown and/or burnout, but I was as yet unable to comprehend this. I evolved upon reading the accounts and watching the videos of younger, more free-spirited advocates (some resources listed below.) I was forced to admit that stimming was healthy and had its place. Now there are celebrations like Stimtober and Day of the Stim. Techniques that try to eliminate the stim are frowned upon.
I think I was scared of Yet Another Label, as I'd been rather weird all my life. Almost a decade apart I received two radically different labels. One was instantly believed, earning me sympathy and offers of support. The other was hard to disclose and even harder to get acknowledged.
I am not famous like Olivia Newton-John, the breast cancer survivor, or actor Daryl Hannah, who was believed when she announced she was autistic. Olivia has continued to receive loads of encouragement and love, especially on the cancer's recent return.
Both labels have affected my self esteem and raised my anxiety level. What has this got to do with stimming, and why am I free to do it now, in my sixth and seventh decades?
Growing up and navigating adulthood undiagnosed meant I constantly studied others in order to fit in. Things I did to calm myself–like humming, nail peeling and scab picking—or to ground myself like sitting with my feet curling around the chair legs, were not cool.
Some things were invisible, like chewing the inside of my mouth, or looking at light through a prism or kaleidoscope, or reading a book over and over again until its characters were old friends.
Meme below by Yenn Purkis, June 23, 2018 on Twitter.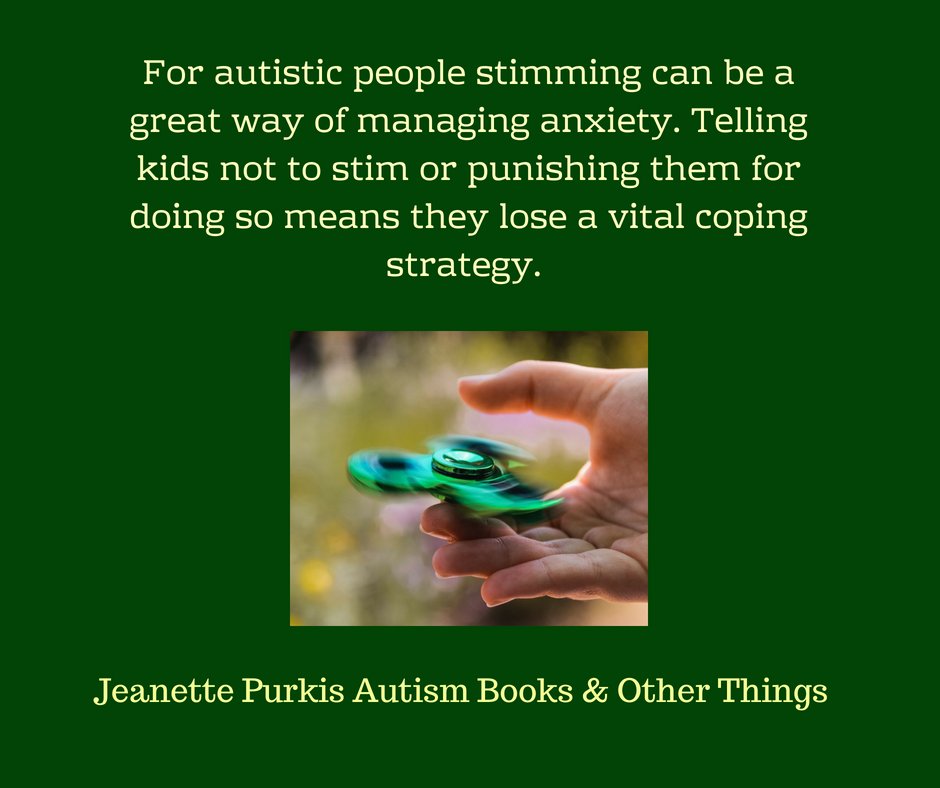 Mostly I stimmed with music, snatches or earworms would run through my head, sometimes from the moment I awoke. Of course, everyone jumping up and down at concerts is stimming, and no one pays any mind to it there. I have to thank Agony Autie for turning me on to stim dancing. This is A THING.
How odd that later in life, Daryl Hannah has married Neil Young: I tuned to many of his songs, not typical fare for a twelve-year-old.
Love lost, such a cost Give me things that don't get lost….
(Old Man, 1972 with Linda R and James T singing backup)
I can't tell them how to feel—Some get stoned, some get strange
Sooner or later, it all gets real (Walk On, 1974)
That one got me through a dreaded swim class and a chlorine-choking changeroom.
Or this sad lament of an absentee father, when my parents were fighting and I couldn't make it better (as though that were up to me.)
You better learn it fast, you better learn it young 'cause Someday Never Comes. (Creedence Clearwater Revival, 1972)
Then, thankfully, I spent many long hours at the piano, both in a deserted classroom and at home when I was supposed to be practicing my classical repertoire, picking out the latest Elton John or Paul McCartney classic. I didn't know yet what a broken heart was, but deep inside I expected one.
All I know of love is how to live without it, I just can't seem to find it—the late great Karen Carpenter. (Goodbye to Love, 1972)
I spent my first five decades on this planet trying to find out how to behave, Pretending to be Normal as the pioneering autiebiography by Liane Holliday Willey states (just had its 20th birthday—hurray!) So now,especially in this pandemic time, I can stim all I want—sit wherever or however I please, sing at the top of my lungs, play along with the amazing virtual mashups and concerts, stare at my painted fingernails, and dance like no one's watching, because No One Is!
For further exploration: Ask An Autistic #4 https://www.youtube.com/watch?v=WEB7nGvJt7I 10 minutes with Amythest Schaber
Many young people are reclaiming the term as a form of Autistic Pride. More power to them. Case in point is Agony Autie, who gave me back the joy of the stim: https://www.youtube.com/watch?v=8bhT2R9HiLs She has several videos on her channel but this is short and sweet.
Erin Human's redbubble store: Great slogans! https://www.redbubble.com/i/sticker/Stimmy-Happy-by-idrawhumans/28574227.EJUG5#&gid=1&pid=3